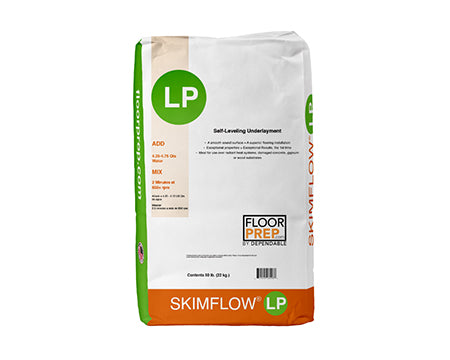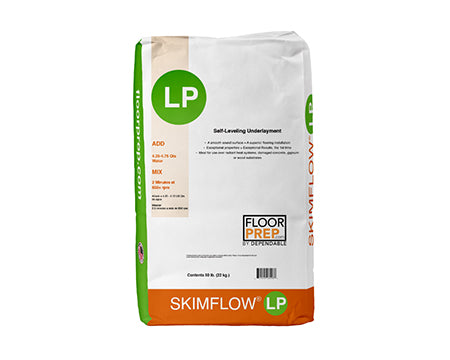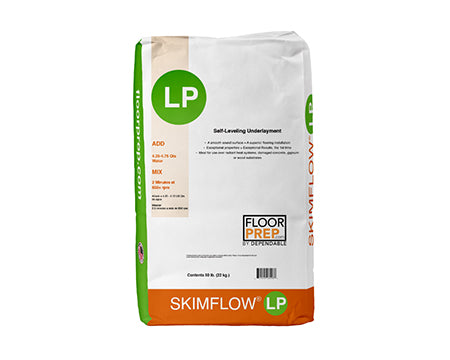 DEPENDABLE - SKIMFLOW LP HYBRID GYPSUM HYDRAULIC CEMENT SELF-LEVELER 50 LB BAG
Supplier SKU: DSFLP-50
East Bay Supply SKU: DEPDSFLP-50
SKIMFLOW® LP with hybrid gypsum hydraulic cement technology is an innovative self leveling underlayment designed to facilitate ramping (1/4" in 12") or very flat floors. SKIMFLOW LP is designed to address out of level or old damaged floors in residential, commercial, institutional and renovation environments. SKIMFLOW LP dries to a smooth hard surface that facilitates rapid application of flooring goods in as little as 16 hours. SKIMFLOW LPs exceptional volume stability and bonding characteristics facilitate application in light foot and commercial traffic areas without requiring mechanical preparation of the substrate. 
Features:
Typically requires no mechanical preparation of concrete substrates for pedestrian traffic and light commercial applications.
Optimized for installation from 1/4" to 3" NEAT in a single lift.
Suitable for installation prior to interior build outs.
Smooth, hard surface is compatible with a wide variety of flooring adhesives, and suitable for all kinds of finished flooring goods such as vinyl, LVT, carpet, engineered wood, ceramic, and more.
Will not support mold growth
Suitable for under floor heating systems, electrical and hydronic
Compatible with some sound attenuation systems
Suitable Substrates:  All substrates must be clean, well bonded, sound, and stable

Concrete and concrete plank
Existing patching and leveling materials
Sound gypsum
Steel pan
Cement or epoxy terrazzo
Well bonded existing flooring such as VCT, ceramic tile
Non-compressible and non-soluble adhesive residue
Coverage per 50 lb bag:  Approximately 19-22 sq. ft. at 1/4" thick
Placement Time:  15 minutes
Time to Foot Traffic:  3-4 hours
Time to Flooring:  Breathable Flooring
Less than 1" depth:  16 hours (next day)
1"-2" depth:  36 hours (1.5 days)
2"-3" depth:  60 hours (2.5 days)
 Time to Flooring:  Non-breathable Flooring
Less than 1/2" depth:  24 hours
1/2"-1" depth:  48 hours
Greater than 1" depth:  48 hours plus 36 hours for each additional 1/2"
Compressive Strength (ASTM C109):  
24 hours - 1200 psi
7 days - 2500 psi
28 days - 4100 psi
Shelf Life:  12 months when unopened and stored per instructions