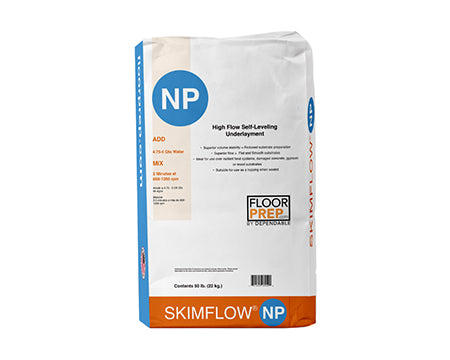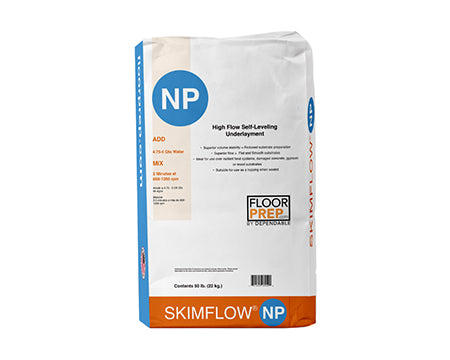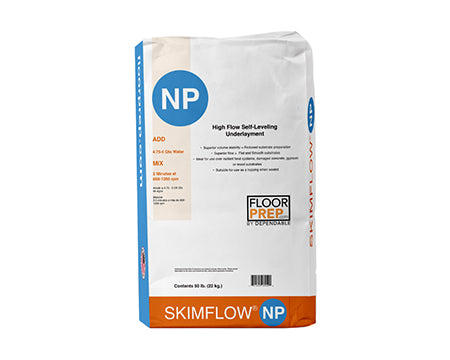 DEPENDABLE - SKIMFLOW NP PREMIUM HYBRID CEMENT SELF-LEVELER 50 LB BAG
Supplier SKU: DSFNP-50
East Bay Supply SKU: DEPDSFNP-50
SKIMFLOW® NP (No Problem) is a hybrid cement self-leveling underlayment designed for time sensitive projects, where compromised substrates make shrinkage undesirable. SKIMFLOW NP offers no-shrink, no-profile, technology to fast-track jobs, without sacrificing performance.
Features:
No mechanical preparation of concrete substrates is required on most applications
Self drying:  Walkable in 2 hours in optimal conditions
Hard surface withstands light trade traffic within hours and regular trade traffic in 16 hours
Will not degrade if temporarily exposed to water (designed for dry environments)
Will not support mold growth
Suitable for under-floor heating systems - electrical and hydronic
Suitable for installation over a wide variety of substrates
Compatible with some sound attenuation systems
Suitable for finished flooring such as vinyl, LVT, carpet, engineered wood, ceramic, and more
Suitable Substrates:  (On or above grade, well bonded, clean, dry, sound and stable)

Concrete, concrete plank
Existing patching and leveling materials
Sound gypsum
Steel pan
Cement or epoxy terrazzo
Well-bonded existing flooring such as VCT, ceramic tile
Non-compressible and on-soluble adhesive residue
Coverage per 50 lb bag:  Approximately 23 sq. ft. at 1/4" thickness
Placement Time:  20 minutes
Time to Foot Traffic:  180 minutes
Time to Flooring:  Breathable
Time to Flooring:  Non-Breathable
16 hours first 1/4"
Add 16 hours for each additional 1/4"
Compressive Strength (ASTM C109):  

24 hours - 1200 psi
7 days - 2500 psi
28 days - 5000 psi
Shelf Life:  12 months when unopened and stored per instructions